Luna Park Sydney is located on the foreshore of Sydney Harbour at Milsons Point, adjacent to the northern end of the Sydney Harbour Bridge. Luna Park is a restored 1930's amusement park that
was originally designed to mirror the first Luna Park, which opened on Coney Island in New York in 1903. Entry to the park is free and tickets for rides, and games can be purchased inside the park.
Over the years, the park has been closed and opened a number of times. The park has been targeted by numerous developers, and thankfully through it all, Luna Park has survived, and is still very popular today.
Coney Island, Attractions and Rides
Luna Park has a mix of old and new rides, which have specific
height requirements.  The Carousel dates back to the 1900′s and has been beautifully restored. The Rotor has been an old-time favourite for the past 50 years.
Ride the Ferris Wheel and enjoy amazing views over Sydney Harbour Oraljelly.es, an ideal vantage point for taking photos.  Other popular rides are the Wild Mouse, Dodgem Cars, Tango Train, Flying Saucer, Tumble Bug. Spider and Moon Ranger.
Coney Island with its nostalgic charm is an authentic 1930 fun house. It is like taking a step back in time, and is ideal for anyone who does not enjoy the hair-raising rides. There is something here for everyone to enjoy like the Mirror Maze, Slides, Devil's Drop, Mirror Maze, Wonky Walk,
Turkey Trot, Barrels of Fun and Joy Wheel.
There are rides for the children at Maloneys Corner, there is the Space Shuttle, U-Drive, Magic Castle and the Whirly Wheel.
The Big Top
The Big Top is located within Luna Park and is a multi-purpose entertainment and concert venue, with state of the art technology.  There are two bars, the Foyer Bar on the ground floor you can  purchase snacks and dinner. The Foyer Bar on the top floor has loads of comfortable lounges where you can sit and enjoy a drink with friends.
Magique Halloween Circus
The Magique Halloween Circus will be held on Saturday 27 October, 2012 at the Big top. This is Sydney's biggest fancy dress dance party with mixed performances. Dressing up in a costume or as a character is required for entry and is strictly an 18+ event.
Showcasing Australia's best magicians, grand illusion shows, hypnotists, pole dancers, burlesque  & boylesque shows, aerialists & trapeze acts, fire twirlers & jugglers, stilt walkers, unicyclists & death defying stunts, contemporary & acrobatic dance showcases, contortionists, sword swallowers and so much more.
There will also be funky house, electro, hardstyle & hard trance (silent disco), R&B, hip-hop and various live retro-rock bands playing in multiple rooms in the Big Top.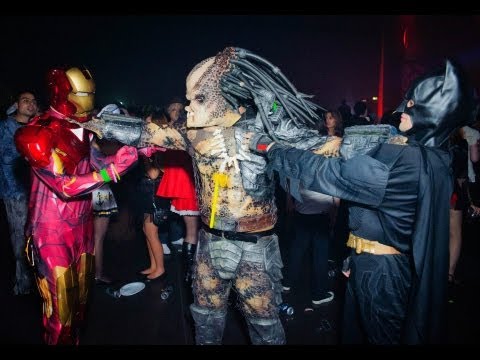 Luna Park Sydney
Luna Park, Sydney is listed on the State Heritage Register, and it has had many upgrades throughout its long history. One thing has always remained the same, the fun times that thousands of families have been able to experience decade after decade and the fond memories they've all gone home with.
These amazing photos of Luna Park are courtesy of Tourism Australia.
Kerry – Parks in Sydney.
Share and Enjoy